Hi there 👋
I'm Bryce York and I'm glad you're here!
I'm excited to announce that I've got a book launching later this year. I'm in the midst of the writing process, and I want your help.
My book helps existing product managers become proven strategic contributors so they can have unquestionable impact, impress the CEO, and ship their life's work.
I'm building an Insiders List of existing product managers and leaders to provide feedback throughout the process. I want you to help me write the book I wish I had earlier in my career.
This book is all about the non-obvious stuff, so there should be loads of value for everyone. My goal is to share as much as possible of my approach to product leadership based on what I've learned in the trenches over the last 10+ years.
Everyone on the Insider List will get early access to the content (looking forward to your honest feedback) and discounted access to the book as soon as it's off the press! I'd love to have you on this journey with me.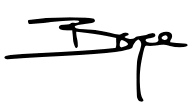 ​